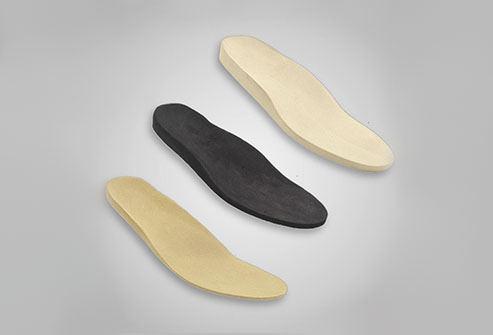 Insoles for Comfort and Support
Our benefices range of insoles provide the best support and comfort for sports and related activities . Your feet is perfectly balanced and has the best comfort for any mild activity like walking, jogging etc. These insoles are perfect for daily use and is highly recommended for health and fitness.
The insole is the inside part of the shoe that runs underneath and supports the bottom of the foot. Insoles are also referred to as foot beds and inner soles. They are usually easily removable. People often replace the original insoles with a pair of specialty insoles they've purchased separately for a more comfortable and supportive fit. These are called aftermarket insoles.
Specialty insoles can be added to make the shoe more comfortable, control odor and moisture, and absorb shock. For health-related reasons orthotic insoles can give better position and support to the foot.
The Importance of Insoles for Foot Comfort
Our feet takes a lot of stress, and when that stress isn't properly absorbed it can cause serious pain in our ankles, knees and hips. Quality insoles absorb shock, evenly distribute weight and provide arch support.
Improper foot care can lead to all kinds of health issues, so it's important to take care of your feet. If you own a pair of uncomfortable or ill-fitting shoes, a new set of insoles might be the solution to improve them.
Our
Benefices
range of Insoles are good to offer the best comfort and support for your tired legs. They help reduce the force of impact on the ground and also aids in circulation.
How to Buy Insoles for Your Shoes
Ready made Insoles have a predefined arch , which may not suit the individuals needs. It may also not offer the required corrections.
Aftermarket insoles can perfect your shoe's fit and provide better support and cushioning. There are two types of insoles: Comfort and Support.
Comfort insoles are for people who experience foot pain from being on their feet for extended periods of time. These types of insoles absorb shock and cushion the foot.
But tired, throbbing feet might not be the sole result of being on your feet for too long. Support might be the issue. If your feet still ache after you ​use comfort insoles, try a pair of support insoles. Support insoles are made of harder materials that reinforce stability and structure. Those who have issues with pronation, plantar fasciitis and the like can find major relief in support insoles.
FootPro uses only EVA (Ethylene Vinyl Acetate) for producing Insoles.
They retain their resilience and shape for a long period of time. Unlike cheaply available MCR/MCP insoles in the market, EVA insoles remain incompressible and retain their support and pump effect for a very long duration. German Insoles are highly durable and provide best comfort for over two years. FootPro assures a One Year replacement guarantee for German Insoles . These insoles can also be washed for hygienic reasons and has anti-bacterial and anti –fungal properties and is almost odourless. Our Insoles are tailor made to the individual needs with the help of 2D & 3D scanner from Paromed,Germany.
They also provide the best support to the arch and also alleviates foot pain by offloading the weight from pressure points. Also, the entire weight of the body is spread over the insole, which offers total contact with the foot. With regular use, they also aid in circulation and helps increase blood flow, thereby aiding in providing nutrient rich blood to the lower limbs and offer proper nerve stimulation, thereby preventing major problems in future.
Our
benefices
range of Insoles provide maximum comfort to your tired and tender feet and prevents further problems in future.