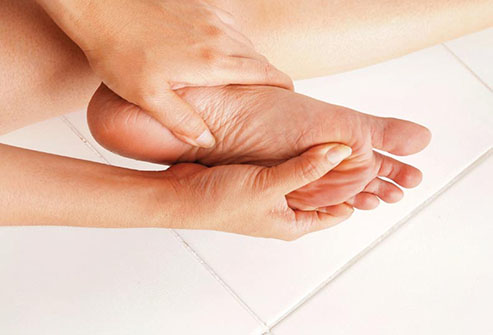 Plantar Fasciitis
The plantar fascia is a flat band of tissue (ligament) that connects your heel bone to your toes. The plantar fascia is the largest ligament in the human body. It supports the arch of your foot. If you strain your plantar fascia, it gets weak, swollen, and irritated (inflamed). Then your heel or the bottom of your foot hurts when you stand or walk.
Plantar fasciitis is one of the most common causes of heel pain. It involves inflammation of a thick band of tissue that runs across the bottom of your foot and connects your heel bone to your toes. Plantar fasciitis is most commonly caused by strain injury causing micro tears to the ligament as it attaches to the heel bone or other areas of tightness on the sole of the foot.
Plantar fasciitis commonly causes stabbing pain that usually occurs with your first steps in the morning. As you get up and move more, the pain normally decreases, but it might return after long periods of standing or after rising from sitting.
There are more than 10 million cases per year in India and is easily identifiable . The symptoms include stabbing pain near the heel. Pain might be worse in the morning and with prolonged standing, running or jumping. Treatments include physiotherapy, stretching exercises, shoe inserts, pain relievers, steroid injections and surgery.
How do you get rid of plantar fasciitis?
Rest your feet. …

To reduce inflammation and relieve pain, put ice on your heel.

Wear shoes with good shock absorption and the right arch support for your foot (Custom Orthotics/FootPro Insoles) to help cushion your heel.

Put on your shoes as soon as you get out of bed.

Take an over-the-counter pain reliever

Rest your feet by staying off of them as much as possible for a few days when your heels are aching.

Some good foot flexing and stretches can help stretch out the plantar fascia, and make it feel better.

Adjust your shoes with inserts (Insoles) that raise the heel and support the arch of your foot.

Avoid walking on uneven surfaces.

Plantar fasciitis is more common in runners. In addition, people who are overweight and those who wear shoes with inadequate support have an increased risk of plantar fasciitis.